My day started having an enjoyable coffee with a friend as part of a larger group and felt an encouragement regarding my blog from yesterday. After coffee, I went grocery shopping. I nipped into Tim Horton's for a bagel and a chance to think about what I needed at the store. I was shopping blind - no list - another thing I want to improve about my cooking is my planning menus ahead and shopping with a list, which can also be a juggle because you could put some planning together and then get to the market and discover that item you needed is out of stock and it may be months before you see it again. Apparently, years ago when there was a problem with an author in Denmark who said something negative about Islam and so all of the UAE stopped importing butter and other products from Denmark until there was some sort of resolution and somebody got over there issues... or maybe they just wanted their favorite butter back. Anyway, I digress... I just need to improve my planning.
I was not terribly excited to get groceries. After yesterday's disaster, I was not feeling very encouraged by the selection of meat entrees. Even my husband made comments about eating more vegetarian-based meals. But I needed other essentials - laundry soap and such - so I could not avoid it. I went and grabbed all the non-food based essentials and started moving towards the foods section. I thought about the space I currently have in my fridge, which was not much. The holidays and my other recent attempts at some unique and inspired dishes have left me with quite a few odds and ends that I should try to use up in the next few days. That led me to thinking about my freezer and the conversation David and I had about getting a deep freeze - an uncommon appliance here. But I went over to the appliance department of the supermarket (kinda like a Super Target/Walmart) and Voila, I bought a freezer and it will be delivered on Saturday. I finished up the grocery shopping. I didn't buy anything too terribly excited. I did buy a roast so that we might have a second chance.
But I came home and was fighting a headache and truly was dreading making dinner. I was not feeling at all motivated to make anything for dinner worthy of my blog. It was going to be a very busy evening with church youth and my son had company over - big boys who really like to eat good food. So, I opted for an old standby - fried chicken. Not exactly the healthy endeavor I wanted to move toward when I started this blog, but this is not going to happen overnight, is it?
When I was thinking about the space in my fridge and odds and ends, I thought about my earlier attempt weeks ago to try and copy the KFC "Secret Herbs and Spices" and I had some of that sample leftover - enough for dinner. There are copycat recipes for just about everything. While I did not think that this chicken tastes like KFC, my family thinks this is better.
From 11 Secret Herbs and Spices( Kfc Copycat)
2 tablespoons paprika
1 tablespoon onion salt
1 teaspoon celery salt
1 teaspoon rubbed sage
1 teaspoon garlic powder
1 teaspoon ground allspice
1 teaspoon ground oregano
1 teaspoon chili powder
1 teaspoon black pepper
1 teaspoon basil leaves, crushed
1 teaspoon marjoram leaves, crushed finely
Directions:
Combine all ingredients as listed in a small jar with a tight fitting lid (baby food jars work good). Shake mixture to combine. Stores for months. Keep out of direct sunlight, heat and humidity.


I had all of this mixed together but did not follow the recipe from the website simply because I had forgotten about the rest of it. I took 3 Tbsp of this mixture and put it in with a heaping cup of flour. I put 4 eggs into a dipping bowl and a splash of milk and commenced my assembly line of frying chicken.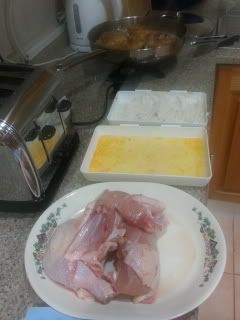 I am always pleasantly surprised when something I cook actually comes out of the pan looking like the original cook's photo.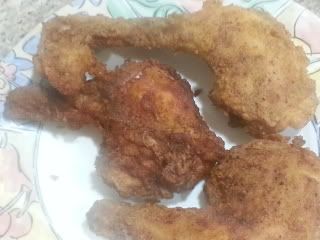 The rest of the meal was the resurrected potatoes and snow peas from
yesterday's disaster
. The snow peas were simple. I don't think I mentioned them yesterday, but I can tell you what I did. I took a bowl full of snow peas - about two cups worth - and put about enough olive oil to coat them and a Tablespoon or so of a salt-free mixture of herbs. If I had been in the states, I would probably just use something like Mrs. Dash. But I can't get that here and so I just used a generic blend of herbs good on veggies and just a pinch of salt. I mixed that altogether by hand and it was ready to go in the oven last night for about 15 minutes. But since THAT didn't happen, we had to bring it back to life with a splash more oil and David just stir-fried it for me in a pan. Not as good as it would have been yesterday, but not gone to waste either.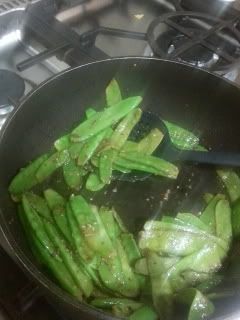 The other side item was the
English Potatoes
that were also salvaged from last nights meal. They tasted just perfect.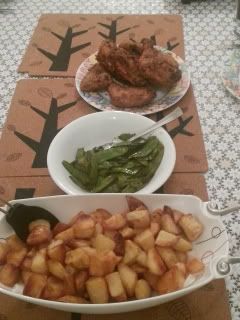 Well, not the healthy meal I wish I had put some forethought into... but healthier than the bucket of KFC I might have ordered in a different time. Baby Steps.
Tomorrow, we go for a do-over on the roast.