I seem to be tap dancing around this elusive beef roast. Well, it's actually still marinating. It all goes back to that planning thing...
When I announced that the beef was going to be on the table the day after I tried to copy KFC, I had forgotten to take into consideration that we had friends coming into town and that we would be driving to Dubai over the dinner hour and dinner had to be eaten out early. So, the roast out to be good since it will ultimately be marinating for 3 days by the time we eat it.
Meanwhile, friends are in town and we have been out enjoying Abu Dhabi like we're all seeing it for the first time again. Today, we toured the Sheikh Zayed Grand Mosque of Abu Dhabi and then came back to our house and had Turkey soup - something my husband cooked up with Christmas dinner leftovers and it had no recipe - Turkey, rice, corn and some appropriate spices. That's how he rolls. But we also had a salad - lettuce, cucumber and yellow onion and I made a dressing for it.
It's called Szechwan Dressing...
1/4 c. rice wine vinegar
1/4 c. canola oil
1/4 c. sugar
2 tsp. grated fresh ginger
1/4 tsp. crushed red pepper flakes
1/4 cup minced fresh cilantro
salt to taste
It came out of the Whole Foods cookbook I have. I skipped the crushed red pepper flakes because when I sampled the new red pepper flakes that I had bought left my tongue numb from the heat.
It was yummy. Perfect for our lunch. :)
Fast forward to dinner, we went out. :)
Our favorite restaurant!
Now, Lebanese is not truly an Arabic cuisine. But it's found its way into the hearts of the people here and this is one of the best, if not THE best restaurant for Lebanese in Abu Dhabi.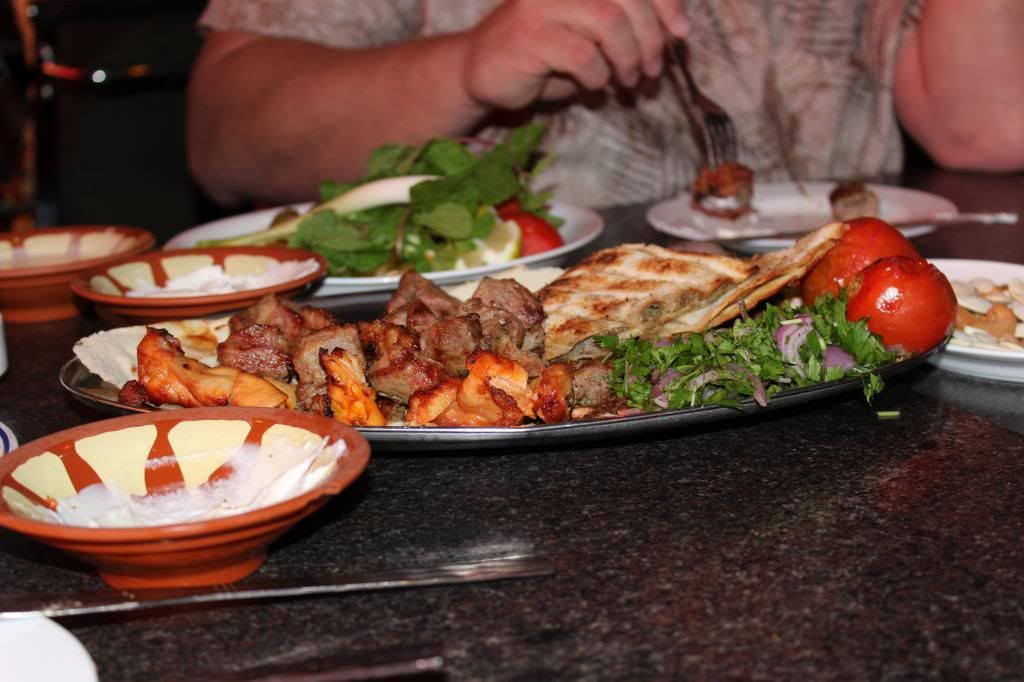 Falafel, Shwarma, Kofta, Arayes. It's always reasonably priced and always delicious!!
Here's the Shwarma grill. The chicken cooks all day on this stack and then when it is served, it's shaved off in thing slices.
There was even a Christmas Tree!